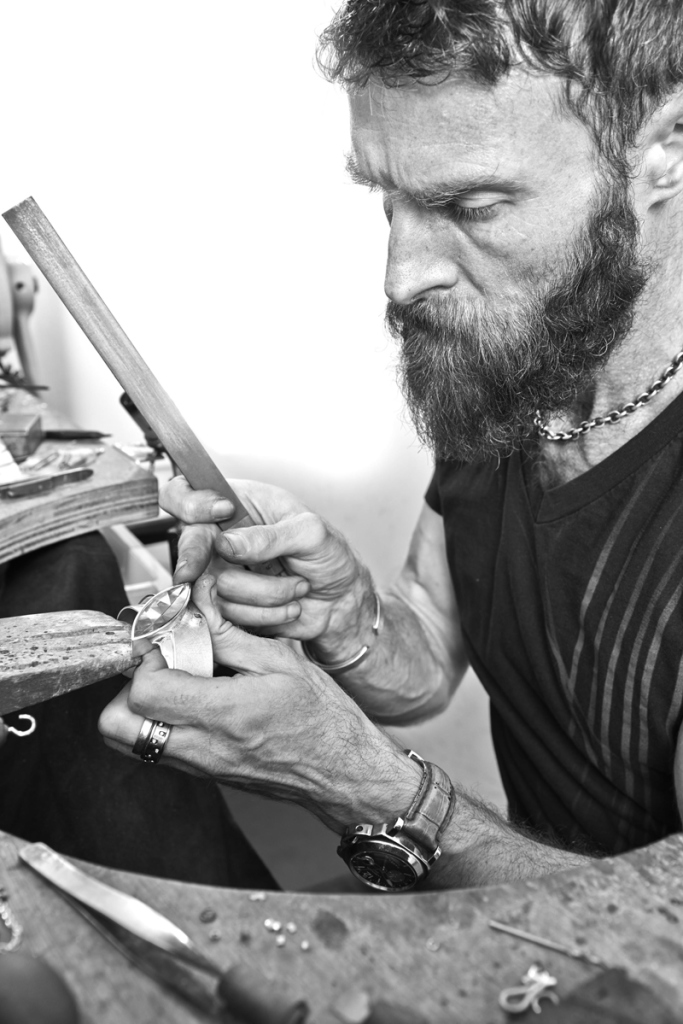 Having grown up on a farm in rural Scotland and now living in London since 2004, my life has consisted of a series of contrasts. Over the years this has guided my work – the coarse with the smooth, dark through the light, soft lines edged with hard shapes – these have become my primary sources of creative inspiration. As such, I am continually inspired by anything and everything I see around me, whether it be architecture, noise, characters in my adopted home town of London or sights discovered whilst travelling the world far beyond it's city limits. The harmony that can exist between decay and renewal, constantly generates ideas, thoughts and feelings. At the same time, paring down forms to the visually simplistic and elegant, with a touch of the unanticipated, allows me to translate this into refined, unique jewellery.
I design, create and finish all my work by hand, in my studio in the iconic Oxo Tower on the South Bank. I work mainly on a commission basis, with each piece unique in it's form and style, be it for an engagement, a wedding or a one off piece created simply around the beauty of a favourite stone or metal. This individual approach ensures that each client receives jewellery that is not only handcrafted but also original, and a far cry from the mass-produced pieces of the high street. I work in silver, gold, palladium and platinum as well as a large variety of precious and semi-precious stones.
The pieces you see are just a selection of my work. If you have any ideas or questions about what I do or what is possible, please feel free to contact me.